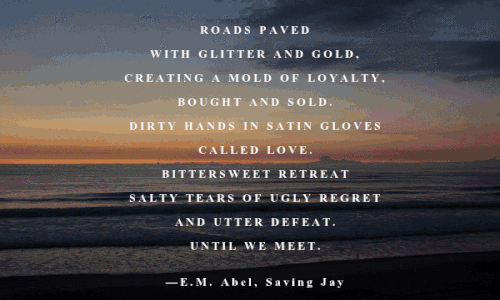 Saving Jay (Breaking Free #3) by E.M. Abel ✰✰✰✰
Expected Publication: February 10th

Before I started this book I took a minute to consider my expectations. I wanted a happy ending to close off the series, a deserving love interest for Jay, a coming together of family and friends, (No more outcasting my sweet Jay.) but most importantly I wanted to feel that urge to pick up the first book. And I did—I do. You have no idea how happy I was when I finished this. I had a huge Jay+Jade4Ever smile on my face.
Initially, I thought they were both fascinating as individuals and perfectly flawed—Jade, coming from a loaded-gun lifestyle yet being braver than she thinks, and Jay in all his existential loneliness really grabbed my heart—but I wasn't drowning in feels over their relationship until much, much later.
I couldn't ignore that after an amazing prologue and some great chapters in, the pace seemed to drop and so did my interest in Jay+Jade4Ever. I wasn't experiencing the same wave of emotions as with the previous books and it hurt my rating a bit, but then BAM the second half was back on track and more my taste, really blowing me away.
Things were HAPPENING for me and I was loving it. And then the epilogue—I loved the epilogue! I immediately wanted to read the series all over again. I felt so proud of these two amazing characters and their journeys towards forgiveness and fearless love but at the same time it was bittersweet.
I feel like the lingering idiot at the party who doesn't get the hint everyone's leaving—Party's over. Hit the lights!—but I don't want this series to end!! I don't want to say goodbye. I'm gonna miss this entire gang so much. It takes real talent to create truly memorable characters—ones you wish you'd known your entire life.
Thank you, E.M., for all the feels! And thank you for not blackening recreational marijuana use. (It's gonna save the world some day.)
***ARC provided by author in exchange for honest review***